I reveal the title of my next book on "The Conciousness Shift"
with host Gwendolyn Holden Barry!
Amythyst Raine-Hatayama is an author and spiritual feminist; a wife and mother; a witch and taroist. She writes books on witchcraft, the tarot, and Feminine Spirituality (published by Labyrinth House, Moon Books, & Dodona Books). She's an avid blogger; a pagan activist; a holistic healer through crystals and stones-- by means of crystal grids and chakra balancing, as well as through the hands-on healing gift of reiki. But mostly she's a psychic/clairvoyant who gives kick-ass tarot readings using the intuitive method-- these readings reveal your past; explore your future; and more often than not, connect you to the spirit world.
The following clip is an excerpt from an interview by director/producer
Jose De La Cruz with author and spiritual feminist, Amythyst Raine-Hatayama:
This space is reserved for My Next Book!
"The Spiritual Feminist"
Coming soon!
Published by Moon Books, John Hunt Publishing
Books...by Amythyst Raine-Hatayama

"Tarot for Grownups is an often bawdy and brutally honest tour through the intricate landscape of tarot card reading. Filled with witty thoughts and blunt appraisals, author Amythyst Raine shares her very personal relationship with the cards. Not one to stay on any traditional path, Raine is in the trenches, teaching you to really see the cards as an experience on the whole, not as a grueling memorization project you will get frustrated with and drop at the next opportunity. No, instead, Raine explains how she learned to view the cards and wastes no time doing it. Her descriptions of the cards and their relationships to one another and the querent are spicy and full of intelligence. This is definitely a book for adults; make no mistake, but an excellent way to gain a different perspective on tarot and the puzzle pieces that make up this art."

Review by Dana Wright

You can order "Tarot for Grownups"
at any of the following links:

Amazon, Barnes & Noble,
or Next Millennium
Kindle Edition,
click Here

Dodona Books
John Hunt Publishing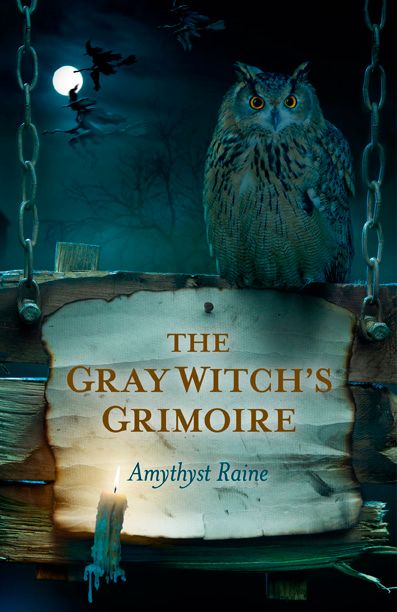 With "The Gray Witch's Grimoire" you can empower yourself through ancient mysteries, secret rites, and magickal spells that leave the world of the mundane behind and nurture the wise-woman in us all.

You can order "The Gray Witch's Grimoire"
at any of the following links:

Amazon.com, Amazon.uk,
Barnes & Noble, or Next Millennium


Kindle Edition:
click Here

Moon Books
John Hunt Publishing




Explore the mysteries and the magic of tarot with well-known psychic,
tarot reader, author, and witch, Amythyst Raine.

You can order "Tarot: A Witch's Journey"
at any of the following links:

Labyrinth House Publishing, Amazon.com,
Barnes & Noble, or Next Millennium

Kindle Edition:
click Here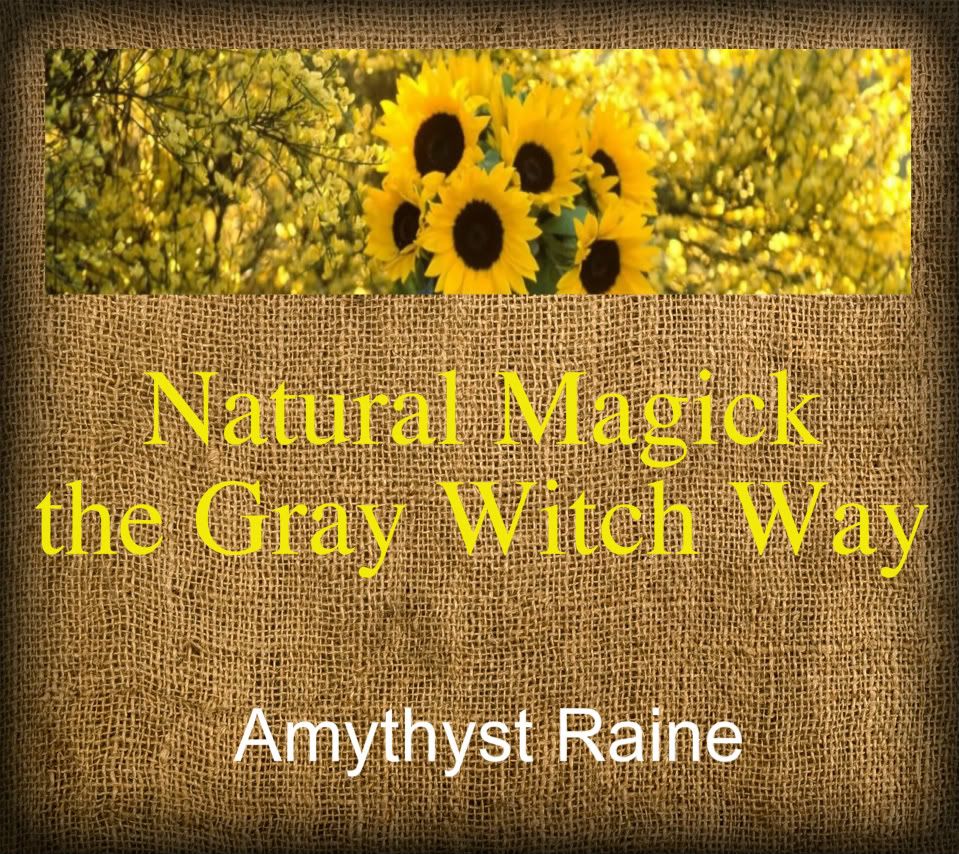 This book is a book of magickal correspondences for the gray witch. The information found here will help you to successfully follow your pagan path, cast your spells, empower yourself, protect those you love, and work your magick the gray witch way. This will make a wonderful companion book to "The Gray Witch's Grimoire".

"Natural Magick the Gray Witch Way"
is an online book only available through my website:

The Witch's Corner
click Here





Who is the Witch?


She's a teacher, a librarian, a nurse, a doctor, a lawyer, a shop keeper, a writer, a mother, a student. She's a blue collar woman, she's a professional woman, she runs a business, runs for office, runs a household. She's a companion to her spouse, a grandmother, a partner to her same-sex mate. She could be any woman you've ever met and any woman that you interact with everyday.

What makes her different from other women? She sees things that other women don't. Nature speaks to her in an ancient tongue that has been forgotten by most. Her body responds to the waning and waxing of the moon, to the powers of the planets, the changing of the seasons, the behavior of wild animals, the energies of the plants, the energies of the stones.

The Universe speaks to her with the colorful images on cards, by the crystal images of a glass ball, by the movement of the pendulum, by the visions only she is shown.

Who is the Witch?...She is the Sorceress, the Mother, the Healer, the Wise Woman, the Priestess. She is part of a dim and distant past, and she is the shining light of our future.
© Amythyst Raine 2007


Disclaimer

This site and its owner are not liable for any direct, indirect, incidental, consequential, or punitive damages arising from using this site and its content.

Copyright Notice

To the best of my knowledge, all graphics and text on this site not copyrighted by The Witch's Corner are within the public domain unless otherwise noted. All copyrighted material has been used with permission and/or been given credit with links. If you have claim to any text or images found here and do not wish them used, Email Me with verification of ownership and they will promptly be removed or credit given.


Tarot Readings with Amythyst
Email Readings:
Receive handwritten personal readings, readings that you will find amazingly in-depth and accurate. You can review your written reading as often as necessary, gleaning new insights.
click Here
Telephone Readings:
click Here
Video Readings:
click Here
Webcam Readings:
click Here
In-House Readings:
click Here
Public Event Readings:
click Here
Spell Crafting Consultations
I won't directly cast spells for you, but I will directly consult with you to put a spell together for you to cast yourself, a spell that you will be able to understand and implement even if you are a novice at magickal spell crafting. I'll work with you to build the correct correspondences for your intentions, a list of the herbs and other ingredients you'll need. We'll figure magickal timing and elemental energies, and we'll get this spell down right, ready to roll.
click Here
Tarot Lessons
Audio/Text/Video
I've developed an online tarot class comprised of six lessons to start you down the road to tarot interpretation:
1. A Card a Day
2. Interpreting a 3 Card Spread
3. Expanding the Tarot
4. The Court Cards
5. Tarot Meditation
6. Categorizing the Cards
These lessons are available in audio or text form, click Here
For free tarot video lessons,
click Here