The Witch's Corner

Amythyst Raine-Hatayama
Author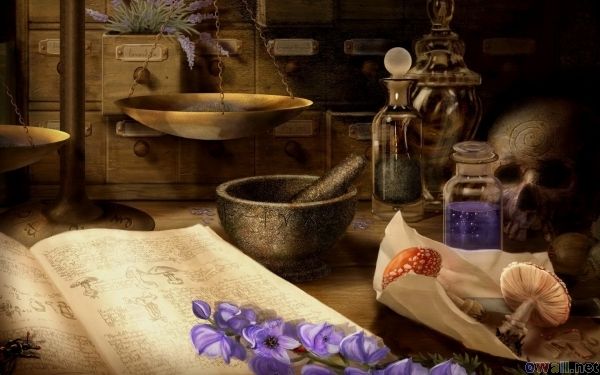 Everyone coming into the Craft wants to cast spells.  It seems to be the first thing most wish to do, and it's the main thing the majority of people associate with witchcraft.  I get emails and calls all the time from people asking me to cast spells for them, which I don't do.  But I will give you the information and knowledge you need to cast your own spells.  That's what this page is for.  It will give you "building blocks" that you need in order to put together your own brand of magick.
In a nutshell, magick works on the premis that everything and everyone in the universe is connected by a fine strand of energy.  Real magick involves nothing more than learning to manipulate this energy in order to create the change that you desire.  In order to do this successfully, all the components of a spell, or as many as possible, should be related in some way, that is they should all jive at the same vibratory level.  The more connections that you use in the formulation of your spells, the better are your chances of moving energy through the right channels in order to achieve your goals.
 Scroll below to find...
Timing
Moon Phases
Days of the Week
The Elements
Colors

*Note:  A more in-depth listing and explanation of magickal
correspondences for all of these topics can be found in my books: 

"The Gray Witch's Grimoire" and
"Natural Magick the Gray Witch Way"
Full Moons 
 Year... Month... Day ...Time... Day of Week 
 2013 Jan 27 05:38 Sun
2013 Feb 25 21:26 Mon
2013 Mar 27 10:27 Wed
2013 Apr 25 21:57 Thu
2013 May 25 06:25 Sat
2013 Jun 23 13:32 Sun
2013 Jul 22 10:15 Mon
2013 Aug 21 03:44 Wed
2013 Sep 19 13:12 Thu
2013 Oct 19 01:37 Sat
2013 Nov 17 16:15 Sun
2013 Dec 17 10:28 Tue
Moon Phases
 Watch the phases of the moon
and time your magick accordingly.
Waxing crescent to the Full Moon:
Receptive magick, cast magick
to bring something to you.
New Moon to the waning crescent:
Projective magick, cast magick to
send something from you.
In my books you'll find more in-depth information and explanations on the moon phases and how to use them to cast successful magick, including a section on the special energies of each monthly moon, along with its correspondences:  herbs, stones, deities, astrological associations, colors, trees, elements, and more.
The Elements: Seasonal Timing

Earth
December 21 to March 20
(winter solstice to eve of spring equinox)
Direction: North
Time of Day: 12pm-12am

Air
March 21 to June 20
(spring equinox to the eve of summer solstice)
Direction: East
Time of Day: Sunrise, 6am
Fire
June 21 to September 22
(summer solstice to the eve of autumn equinox)
Direction: South
Time of Day: Noon, 12pm
Water
September 23 to December 20
(autumn equinox to the eve of winter solstice)
Direction: West
Time of Day: Sunset, 6pm
You'll find more in-depth magickal
correspondences for the Elements:
Earth, Air, Fire, & Water
by clicking  Here
Days of the Week: 7 Days of Magick
  Sunday
Planet: Sun; Element: Fire
Tree: Ash, Birch, Laurel
Deities: The Goddess, Elves
Magick:  health, the god, male issues, spirituality
Monday
Planet: Moon; Element: Water
Tree: Elder, Willow
Deities: Hecate, Crone Goddesses
Magick:  the goddess, female issues, dreams, psychism
Tuesday
Planet: Mars; Element: Fire
Tree: Holly, Elm, Cedar
Deities: Hunter Gods, Elves
Magick:  aggressive energy, marriage, healing disagreements
Wednesday
Planet: Mercury; Element: Air
Tree: Goddess & God
Deities: Hazel, Rowan
Magick:  communication, your muse, spirit connection
Thursday
Planet: Jupiter; Element: Earth
Tree: Oak, Pine
Deities: The God
Magick:  legal & financial issues, expansion and growth
Friday
Planet: Venus; Element: Water
Tree: Birch, Apple, Myrtle
Deities: The Goddess
Magick:  love and beauty, friendship, goddess energy
Saturday
Planet: Saturn; Element: Earth, Fire
Tree: Alder, Hawthorn
Deities: Fairies, Witches
Magick:  hexing/cursing, protection magick
You'll find more information in my books on the days of the week and the magick and correspondences connected with this topic, including: colors, herbs, stones, as well as a more expansive list of magickal energies and spell work associated with each.
Red
Chakra:  root chakra
Element:  Fire
Day:  Tuesday (Mars)
Magick:  spells for love, lust, passion, pure energy, clearing & cleansing, speeding matters along, male issues, god energy
Orange
Chakra:  sacral chakra
Day:  Sunday (the Sun)
Magick: god energy, healing, success fertility magick, spells for Mars energy, Sun energy, male issues, (a milder energy than red)

Yellow
Chakra:  solar plexus
Element:  Air
Day:  Wednesday (Mercury)
Magick:  spells for communication, opening new avenues,
success with mental endeavors, fairy magick, beginnings, creativity, the muses
Green
Chakra:  heart chakra
Element:  Earth
Day:  Friday (Venus)
Magick:  spells for money, wealth, health and healing, material matters, physical issues, growth, fertility, female issues, goddess energy
Blue
Chakra:  throat chakra
Element:  Water
Day:  Monday (Moon)
Magick:  spells for the realms of dreams, psychism-- clairvoyance, clairsentience, clairaudience; to induce visions, to enhance divination, goddess energy, Moon energy, mysticism, female issues, wishes
Purple
Chakra:  crown chakra
Day:  Thursday (Jupiter)
Magick:  legal issues, financial issues, money & business, expansion, to enhance understanding between two individuals or groups, contracts, psychic magick, spirituality
 Black
Day:  Saturday (Saturn)
Magick:  spells for banishing, gray magick, cleansing, exorcism
White
Use white for purification.  White can also be a
substitute for any other color.
 Health & Healing Oil
This ointment is used to "dress" candles used for healing or to maintain continued good health.  Anoint a green candle with this oil for healing of the body; a yellow candle for healing of the mind; a red candle for the physical healing of the reproductive system-- a yellow candle can be burned along with the red one for mental healing of sexual abuse victims. 
Exorcism/Purification Oil 
Anoint a black candle with this oil to exorcise those demons that are bothering you-- whether the irritation is physical or mental.  Anoint a white candle with this oil and burn it to purify your physical space or your mental/physical state.  I've used this oil to exorcise entities haunting my home, and I've used it to exorcise people from my life who were causing problems.
Mars Astrological Oil
This ointment promotes courage, strength, aggression, sexual energy, healing after surgery, exorcisms, and defensive magick.  I've found this to be an especially effective and strong magickal tool, and I want to caution you that this oil can also banish.  Use it wisely.
Witches' Oil
This is an "all purpose" oil which can be used to anoint the body prior to rituals or spell casting.  It can also be used to dress candles.
Psychic Oil
Anoint your third eye chakra with this oil before doing divination of any kind,  or anoint a lavender candle to call up and strengthen your psychic powers.
Sex Oil
Carve your name and the name of the one you desire on a red candle; anoint it with this oil to ignite passion and lust.  Then stand back and be prepared for some fireworks!  This oil can be made to accommodate a monogamous couple, instilled with herbs to maintain fidelity.  If you wish, you can email me with your personal preferences.  We can work together to create a unique oil with the qualities that you desire.
Prosperity Oil
This oil is used to anoint candles for money magick.  It can also be used to anoint stones conducive to wealth and prosperity and carried in your purse or wallet.  It will enhance and draw the energies that stimulate the acquisition of money in many ways.
Summoning Powder
This powder does just what its name suggests-- it summons someone to you.  If you are in possession of a piece of clothing belonging to the individual you wish to summon, particularly intimate apparel, sprinkle it with this powder.  You can also sprinkle this powder on a piece of correspondence you send to this person-- although in this day and age of terrorism, I would be cautious about sending anything through the mail that has a powdery dust on it.
Black Cat Oil

Black cat oil is used to break bad spells and hexes, to attract the opposite sex, and to call in the spirits-- benevolent, magickally oriented spirits.  The ingredients in black cat oil is slightly different to attract the opposite sex, so make sure that you select the correct pay pal button.
Four Thieves Vinegar 
Four Thieves Vinegar is a crucial component in many banishing and commanding spells.  It can also be used to banish illness.  It's reputed to drive away danger and rescue its user from disaster.
Graveyard Dirt
This item is exactly what its name implies-- soil taken from the consecrated ground of a cemetery.  Graveyard dirt is a necessary ingredient in many hexing/cursing spells.  On the flip side, it is also the key ingredient in many benevolent spells, including those for health and healing.

Banishing Oil
Banishing oils are generally used in banishing spells, whether you're trying to rid yourself of undesirable people, situations, habits, or things.  Just make sure that what you think you want banished, you really do-- getting something back is much more work than making something go away.

Command & Compel Oil
"Commanding Oil" is generally used in binding spells-- to get another to bend to your will and do what you want and to gain control of a situation.  This oil has a strong history in voodoo and New Orleans hoodoo culture and is used almost exclusively to exert your will over others.
Uncrossing Oil
This oil is most often used to remove hexes/curses placed upon you.  It's also brought into service to turn bad luck around and is used in spells for just such results.
 Some of the oils listed above are
available at this website,
The Witch's Corner
click  Here