The Witch's Corner

Amythyst Raine-Hatayama
Author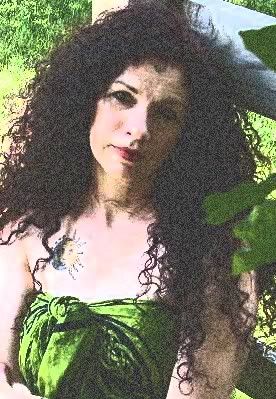 Tarot Readings
with Amythyst Raine-Hatayama
The author of:
"Tarot: A Witch's Journey" and "Tarot for Grownups"
____________________
Upon this page, you will find:
Tarot Spreads for Online Readings
Past Life Reading
Video Tarot Readings
Telephone Readings
Live Tarot Readings
Live Webcam Readings on Skype
Testimonials
About the Tarot
____________________
Greetings,
If you've stopped at this page, you're here for a reason.
Psychic readings, and particularly tarot readings, are a means of seeking answers to questions we may be avoiding, shining light on other people's motives, exploring new paths and avenues we only suspected were there, and discovering guidance from a source outside ourselves.
If there's something on your mind-- a persistent question, a personal dilemma, a decision to be made-- you can seek answers, direction, and inspiration from a uniquely personal psychic reading.
Blessings,
Amythyst

Schedule Private Face-to-Face Readings
with Amythyst Raine-Hatayama
*These private readings are done in Fremont, Nebraska, only!*
I finally found the ideal venue to do personal, one on one, face-to-face readings. If you live in the Fremont area and would like to schedule a tarot reading with me, purchase your reading through the Paypal widget below and then call the following number:
402 720-1725
Private Reading
$30.00
Monday-Friday
$30.00/30 minutes
_______________
Reminder:
I offer a very affordable online (handwritten) mini reading.
3/card spread:
$25.00
Scroll below for a variety of readings through a variety of mediums: online (emailed), telephone, webcam, & video.

"The tarot readings are free,
it's my time you pay for,
and I value my time."
The online (emailed) handwritten readings offered below take a lot of time, effort, and work to create. These readings are written out by longhand with pen and paper, as I turn the cards and interpret each one. This involves a type of automatic writing, and I'm often surprised myself at the insights exposed using this method.
The handwritten reading must then be typed up into a word document, corrected and edited to make it readable. The finished product is then emailed to you, where you will be able to print it out and have the opportunity to re-read it, gathering new perspectives and insights with every read.
Readings will be handled in the order in which they are received. Sometimes several readings will come in within a short period of time, and I only do so many readings a day. Your patience is appreciated.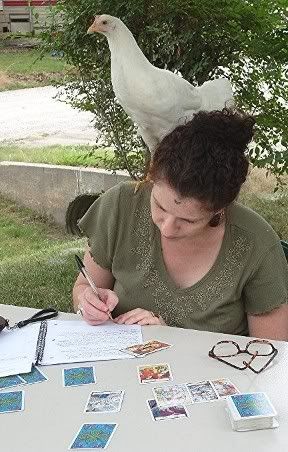 The photo above is Amythyst, preparing
an online tarot reading for a client.
Tarot Spreads:  Choose the reading that's just right for you.

The tarot spreads you see in this box, offered below, are available for online (handwritten) readings. Choose the spread that best fits your situation. You can email me with any special requests, information, or areas/questions that you would like to focus on:
Because of the bulk of personal emails received, please type
'tarot reading' in the subject line to insure a timely response.
Lady Amythyst's
Twelve Card Spread

This twelve card spread is a spread that I created myself and have used for years. It involves three groups of four cards each, the first card being the 'key' to its group. Three questions work well with this spread-- one question for each group of cards. Your other options could be: three issues to focus on; a 'general reading', where we simply lay the cards to see what comes; a past/present/future scenario, or any of these variations. Email me with your questions or concerns; you can tell me what issues you'd like me to focus on.
Twelve Card Spread
(12 card spread)
$75.00

Three Card Spread
One question or topic works well with this spread; or you can focus on a single issue. This spread may be a mini past/present/future reading, or you can also just have a general reading. It's up to you. Email me with your preferences or question.
Three Card Spread
$25.00


The Horoscope Spread

This is a very in-depth spread. This spread is meant to give you a look at what the year, an entire 12 month period, may have in store for you. The traditional spread laid one card for each month. I prefer more insight with this spread, especially considering it covers quite a span of time, so I lay three cards for each of the twelve months, making this a 36 card spread.You can begin this 12 month period with whatever month you wish. Email me with any questions, concerns, specific areas of life you'd like me to focus on, etc., though with this spread some surprising and unexpected topics and information is often revealed all on its own.

The Horoscope Spread
(36 Card Spread)
$120.00

The Traditional Horoscope Spread
This tarot spread utilizes the twelve houses of the zodiac as the twelve positions for the cards. Each of these houses is ruled by a planet, as well as an astrological sun sign, and each of these houses deals with a very specific area of life.
First House: The Self
Second House: Money & Possessions
Third House: Communication
Fourth House: Beginnings & Home Life
Fifth House: Pleasure, Creativity, & Sex
Sixth House: Health & Work
Seventh House: Partnership & Marriage
Eighth House: Death & Regeneration
Ninth House: Mental Exploration & Journeys
Tenth House: Career & Achievments
Eleventh House: Friends, Wishes, & Ambitions
Twelfth House: Secrets, Sorrows, &
Self-Destructive Tendencies

Traditional Horoscope Spread
(36 card spread)
$120.00
The spreads offered below
are all priced at $50.00
Direction & Trends
7 card spread
$50.00
1. the power of the past
2. the power of the present
3. the power of the future
4. & 5. suggestions & tips for your behavior
6. obstacles that you must overcome or avoid
7. the answer



Gypsy's Magick Spell
7 card spread
$50.00
1. this is you
2. this is your defense
3. this is what you are afraid of
4. this is what drives you
5. this is what you are left with
6. this is what the future will bring
7. this is what brings you back down to earth

The Pentagram
5 card spread
$50.00
1. this is where you came from
2. this is where you are going
3. this is what is difficult for you
4. this is what makes sense
5. this is your ultimate goal

Desires & Fears
4 card spread
$50.00


1. this will get you ahead
2. this will set you back
3. this is misleading you
4. this promises good luck

The Path of Desires
5 card spread
$50.00


1. present situation
2. what you desire
3. 4. & 5. bridge between cards 1 and 2

Partnership & Relationships
5 card spread
$50.00
1. your partner
2. yourself
3. this is what's important to him/her
4. this is what's important to you
5. this is the joint solution


Past Life Reading
Through the magick of the tarot and the intuitive ability of the reader, learn about your past life.  Who were you?  What period of history did you live in?  How did you make your living, and how did you relate to the people around you?
By learning about your past life, you add to the experience, knowledge, and wisdom of your present life.  You may discover why you're drawn to particular historical times and places; why you experience incidents of dejavu; why you keep attracting a particular type of partner or friend in this life.
Past Life Reading
14 Card Spread
$75.00

1.  Basic Soul Nature/upon entering this life
2.  Environment
3.  Early Years
4.  Education
5.  Accomplishments
6.  Occupation
7.  Social Status
8.  Relationships
9.  Family Life
10.  Death
11 & 12.  Lessons Learned
13 & 14.  How your past life affects your present life.

Video Tarot Reading
$80.00
 To view video readings, click  Here
After ordering this reading, you can email me
with any questions or concerns you might have,
or anything in particular you would like me to
focus on for your video reading:
 I'll video tape the reading and post it--
anonymously, of course-- at Youtube,
and I'll email you the link.
 
To purchase a telephone reading
with Amythyst:
1:  Make your paypal payment,
using the widget below*

2:  Call this number
to set up an appointment 
for your reading
402 720-1725
Live Telephone Reading
1 hour...$120.00
 1/2 hour...$60.00
 
*Note:  I have people calling me expecting a reading on-the-spot, then and there.  That's not the way this works, please read the instructions above and follow through.
Before I set up an appointment for any reading, I always check Paypal to see if the reading has been paid for.
  
I occasionally give live in-house tarot readings at
Next Millennium
3141 North 93rd ST
Omaha, NE 68134
(402) 393-1121
If you would like me to give live readings at
your shop or bookstore, email me at: 

 witch_of_endore@yahoo.com

or call:
 402 720-1725
(I charge individuals $20.00 for a fifteen minute reading,
with a 10% cut to the shop.)
The photo above was taken at 
Hastings Book Store
Fremont, Nebraska 

I'm also available to do psychic readings for parties, weddings, showers, or corporate events in the Omaha/metro area.
$100.00 per hour
2 hour minimum
Call 402 720-1725
Live Webcam Readings...with Skype
You can receive live webcam tarot readings with Lady Amythyst. 

 To receive these readings you must have:

1) a webcam
2) an account with Skype. 

If you don't have an account with Skype,
follow this url to download it now. 

Skype is absolutely free:
http://www.skype.com/intl/en-us/get-skype/on-your-computer/windows/
 To order a live webcam reading with Lady Amythyst:
1) Make your payment using the paypal
widget below
2)  Call this number to set up an appointment
for your reading:
402 720-1725

 Webcam Tarot Reading
30 minutes
$60.00
Testimonials:

(actual excerpts from clients' correspondence)

  "Wow, I honestly have to say I am amazed.  I always wondered how tarot readings work when done via email...I think you did an awesome job...Everything makes sense."
 Kim H
"That reading was amazing!  Thank you so much!...Your reading gives me a 'heads up', tour guide style, to navigate each upcoming month."
"Thank you for your information.  I am amazed at the accuracy, and I certainly will be in contact with you again."
"It was an interesting read...I thought I'd take a chance on a woman who seems quite comfortable in her own skin to read for me, even though I can't sit down with her.  I wasn't disappointed."
"My first reaction is OMG!  This describes him, our situation, everything, to a perfect T...As always, your reading was right on."
"Thank you so much, this is wonderful, such amazing insight, and the relationship part really hit the nail on the head."
"Just wanted to say how impressive and wonderful the video tarot reading was to watch."
"Thank you for that excellent reading!  You have a beautiful talent and I sure do appreciate it."
"You pretty much hit the nail on the head, with this being my first reading.  You have me for a client now..."
"You are a great tarot reader and a wise witch!  This reading is quite fascinating."
"Thanks so much, Amythyst.  I am intrigued and impressed by your reading of the cards."
"Thank you so much for the tarot reading, it helped me a lot."
"Thank you so much...Your reading was of great help-- I knew exactly who each character and situation referred to, and this gave me confirmation to what I believed and saw, as well as further insight."
"That reading was AMAZING.  You could not have detailed me more accurately even if you were analyzing my DNA!!!...and you can quote me-- AMAZING!"

Below is an excerpt from an online (email) tarot reading, and following it is the client's response.
(published anonymously, with the client's permission, unedited)
Again, unusual impressions coming through: If your animal totem is not the owl, it may very well be now. This animal represents wisdom and quiet fortitude, as well as strength-- it is tenacious, courageous, and deadly to its prey. Sometimes animals come through to me in my readings, and it is this creature which is making it's presence felt now. If you are not adverse to a little pagan energy (and I'm pretty sure you're not), it would be beneficial for you to set up a little table with some images of the owl, as well as green candles for money and finances. You could decorate this altar with a bouquet of mint, coins, silver, paper money, etc. Whatever you do, tap into the energy of this animal and use its attributes to your benefit.
 
 
The owl is also connected to heightened perception-- (listen to your own intuition, follow your instincts); female magick-- (if you're a practitioner of the occult, now's the time to do your thing regarding these issues); and messages to and from the dead-- (pay attention to dreams or synchronicity that you may experience around you, someone may be trying to tell you something).

This gave me chills………one of my totems is indeed the owl.  There is a short story here:  I have always loved owls and I don't know if you are old enough to remember the old shadow box clocks and pictures from the 70's….but my ex husband bought one with an owl on it.  I ended up keeping that after we divorced.  I remarried eventually and still kept this clock.  I had it in our bedroom upstairs.  We lived in a very old country farmhouse near Buffalo.  The house needed new screens on the upstairs windows.  I had the window open one summer day and had just brought up a load of laundry I folded to put away.  Lo and behold on top of the closet door sat an owl, a real live owl.  But at the time I wasn't a practicing witch but I knew there was something deep in me.  It all came home for me 13 yrs ago and I have been a Solitary ever since.  Fast forward to years later:  I began calling owls at night and they would answer.  I then began collecting owl figures.  I was even gifted with an owl wing by a kindred friend.  At the same time my mother was also collecting owls before she died.  After she died last year my husband was fishing and he called me way up in NY to tell me that an owl landed on his fishing pole and stared at him for a minute and flew on.  When my brother and I packed up mom's things I took her owl collection and still have it.  So when you mentioned owls I instantly thought…."Whoa……there is no way you would ever know that!" That's when I realized that owl has a strong message for me and I need to listen. 

(Art by Melanie Delon)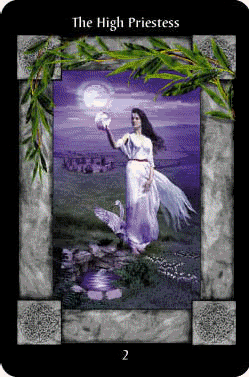 The Intuitive Method
 I read using the intuitive method. This means that I not only recognize and utilize the traditional 'book meanings' of the cards, but I allow my own psychic ablities to play into the process as well. Intuitive reading means that an image from the card– a color, a shape, a form, an object, etc. will catch my eye or sometimes 'leap' at me from the card, and a clairsentient or clairvoyant thought will come to me– and the information that I glean from a card in this way may have nothing to do with the traditional 'book meaning' of that card. This method makes for very accurate readings with insights that seemingly come from out of the blue, sometimes startling in their on-target hit. The intuitive method also produces interesting and lively readings.



 Can you read the tarot for yourself?
Opinions vary with individuals on this question.  I say 'yes'...if you aren't afraid of the answers and sub-consciously shut your intuitive side down. We don't always want to know the answers, you see, even though we ask the questions. This is the main reason people often can't read for themselves.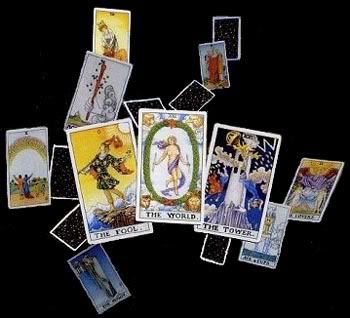 Timing

People so often want to know if you can give a definite
'time' when all the events brought forth in the tarot will occur--
Sometimes, more often than not-- no, but sometimes. I find this most unnerving. If you know that the hammer is going to smash your finger-- do you really want to know the exact moment it will make contact?
Bad News
How much should a reader reveal? 

I will never predict a death. In the first place, I don't think human beings in general are meant to handle news of this nature, this magnitude. Allison Dubois has stated that "our guides/guardians will never give us more information than we can handle"-- and the tarot reader shouldn't either. Of all the beings on the face of the earth, humans are the only creatures who are intellectually aware of their mortality. Was this suppose to be a blessing, or more of a curse? I wonder. And besides, your future-- your destiny-- is not set in stone. The day to day choices you make carves out your future.

At the last minute someone may change the route they are taking. Another might make a spur of the moment decision to set up a complete physical with their doctor. And yet, someone else might miss a plane, lose a train ticket, or make a sudden and unexpected change of plans that is totally against their usual nature.

As your reader, it is my responsibility to plant a gentle seed of warning, to encourage extra precaution where the cards indicate it is warranted. It is not my job to flood a querent's existence with fear and anxiety-- we face enough of that in our modern world without adding to it unnecessarily.

Cheating lovers...This is one of those decisions best made on an individual basis. Are we talking about a deceased spouse/lover and newly revealed information about what has been, or does this information deal with the present and an affair that's in progress? Will the querent benefit by this information, or will it only serve to hurt them? It's my opinion, in the first scenario, that there would be no purpose served. Why not let the querent remember the deceased loved one and the good times for what they were. Revealing information about an affair posthumously would not be beneficial to the living partner and would only taint the memories they hold dear. As for revealing an infidelity in progress, I would have to weigh the pros and cons for each situation and each querent on a case by case basis. Would this information benefit them legally? financially? emotionally?


© Amythyst Raine 2007
 
The true Tarot is symbolism; it speaks no other
language and offers no other signs.
~ Arthur E. Waite






Divination isn't about forecasting the future; but
about understanding our present situation in a way
that will prepare us for any challenge we may face
at creating the future we want for ourselves.
~ Enrique Enriquez






Divination is the art of drawing an analogy between
Chance and our personal situation. "Divinare" means,
literally, "being one with the Divine". The function
of any oracle is helping us to tap into our inner wisdom,
it doesn't matter where we think that inner wisdom comes from.
~ Enrique Enriquez






The Tarot are keys. Keys that allow us passage through
the doorway of the mind, and entry into the territory
of the spirit - the province of the divine.
~ Umbrae
 DISCLAIMER:

Your psychic/tarot consultation is subject to your own personal interpretation. The information provided does not constitute legal, psychological, medical, business, or financial advice. The client receiving the psychic/tarot reading is responsible for all of their own choices and/or actions.

This site and its owner are not liable for any direct, indirect, incidental, consequential, or punitive damages arising from using this site and its content.
Amythyst Raine-Hatayama

Amythyst Raine-Hatayama retains copyright
ownership to all original material,
including tarot readings.
©Amythyst Raine 2006